HE is the occurrence of confusion, altered level of consciousness and potentially coma due to the influence on the brain of toxic compounds that accumulate in the blood due to the inability of the cirrhotic liver to remove them from the blood, as would occur in healthy individuals. 1
| Overt HE 1,2 | Minimal/ Covert HE 2 |
| --- | --- |
| Spectrum of potentially reversible neuropsychiatric abnormalities seen in patients with liver dysfunction and/or porto-systemic shunting | Denotes subtle neuropsychometric or neuropsychological abnormalities without clinical evidence of mental change |
---
The impact of hepatic encephalopathy (HE) on patients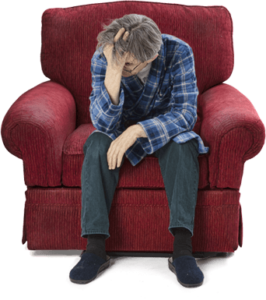 Recurrent episodes of HE have a negative impact on the patient's quality of life 5
The risk of death increases with each overt HE episode 7
Hazard ratio (HR) for death for HE+ vs. HE- = 2.28 (95% CI 1.82-2.87)
No p value available
Data was selected between 1998-2012
Kaplan-Meier plot for survival of patients with liver disease from diagnosis of HE relative to matched liver disease control (N=778)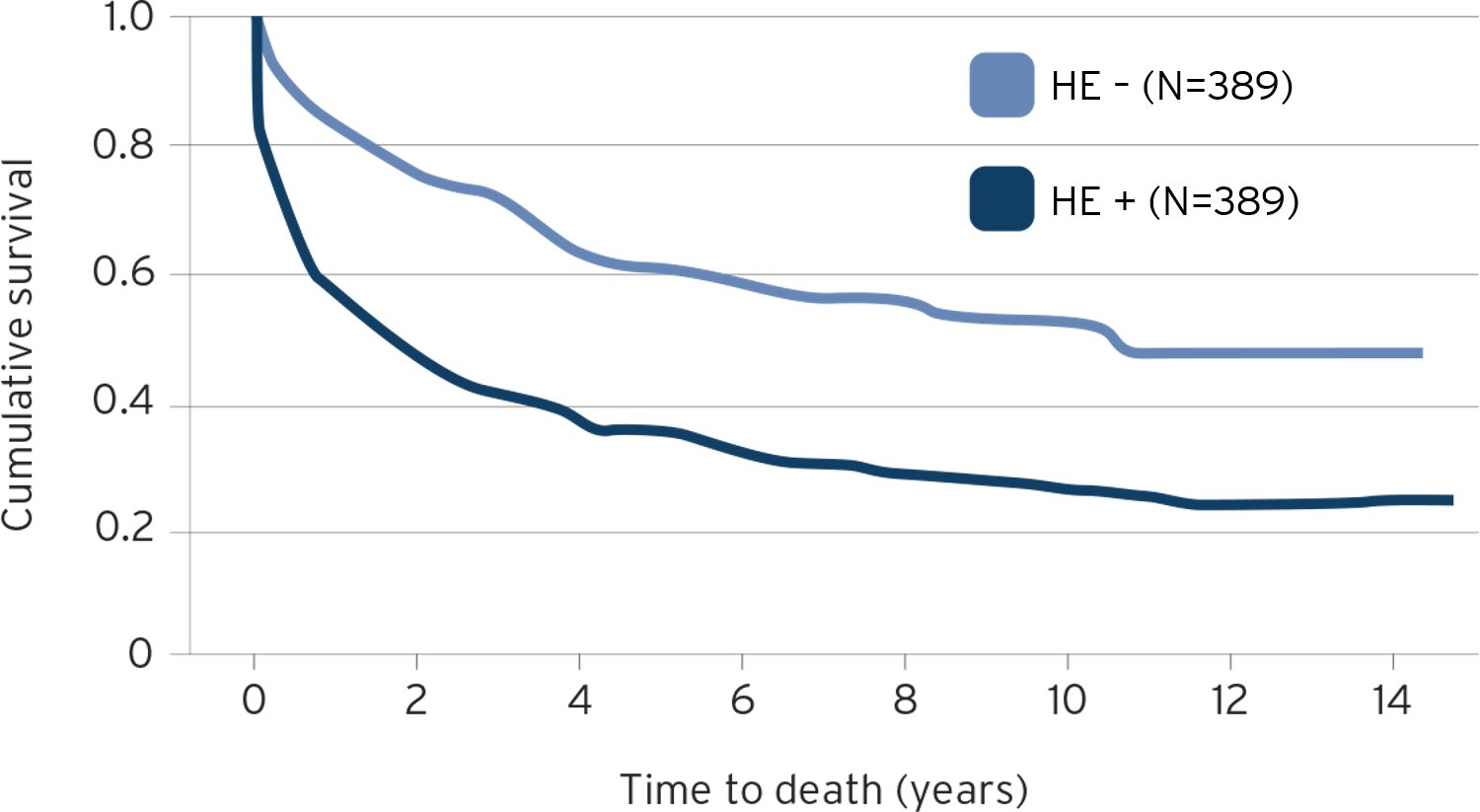 Adapted from Morgan et al. 2014 7
---
Pathophysiology
Ammonia is considered by many to be central in the pathogenesis of hepatic encephalopathy (HE).
Normal Individuals 8
Cirrhotic Patients 8,9

In normal individuals, ammonia is produced in the gut from protein metabolism and in the kidneys from glutamine metabolism.
The majority of ammonia is converted in the liver to glutamine and urea and subsequently excreted in the urine.
Muscle also detoxifies some ammonia by conversion to glutamine.

The capacity of the liver to metabolise ammonia is reduced due to decreased liver function.
Portal hypertension and portal-systemic shunting increase systemic exposure to ammonia.
The capacity of the muscle to metabolise ammonia is decreased due to reduced muscle mass (sarcopenia).
In the brain, astrocytes synthesise glutamine from ammonia and glutamate, and the ensuing osmotic change causes astrocytes to swell, which may lead to cerebral oedema.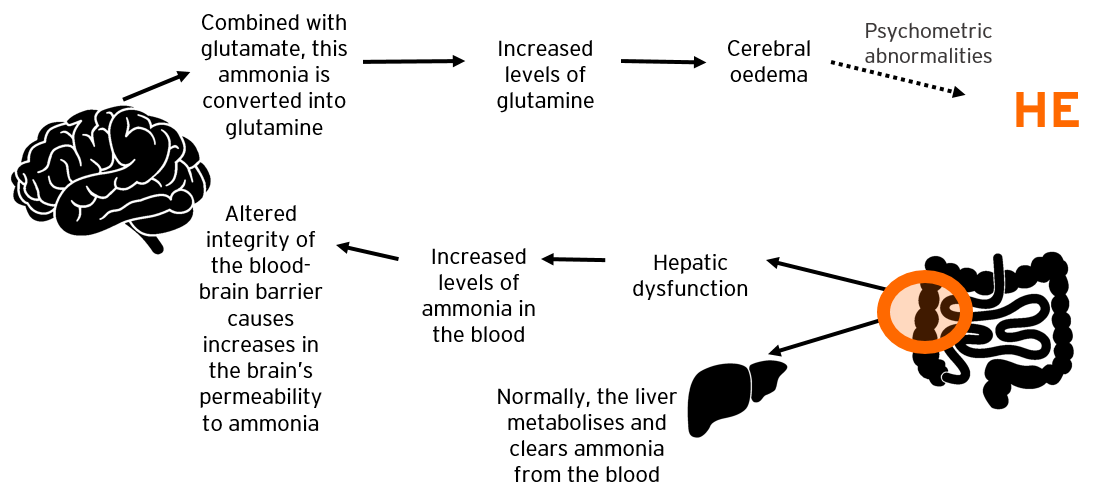 Adapted from Clayton, M. Guide to: hepatic encephalopathy, October 2016 10
Ammonia levels correlate poorly with clinical severity suggesting that other factors are also involved in the pathogenesis of HE.
Infection and Inflammation
Two important factors are infection and systemic inflammation. 11
Inflammatory mediators, such as nitric oxide and cytokines produced by infection or hepatocyte necrosis, lead to further increases in cerebral blood flow and delivery of ammonia to the brain. 12
Bacterial translocation may be increased in cirrhosis and increased systemic exposure to bacteria and bacterial toxins could potentially contribute to HE. 13
---
Diagnosis
HE may often go unrecognised unless it is severe. 1 HE should be regarded as a continuum ranging from unimpaired cognitive function and intact consciousness through to coma. 2
Grading of Hepatic Encephalopathy 2,14-19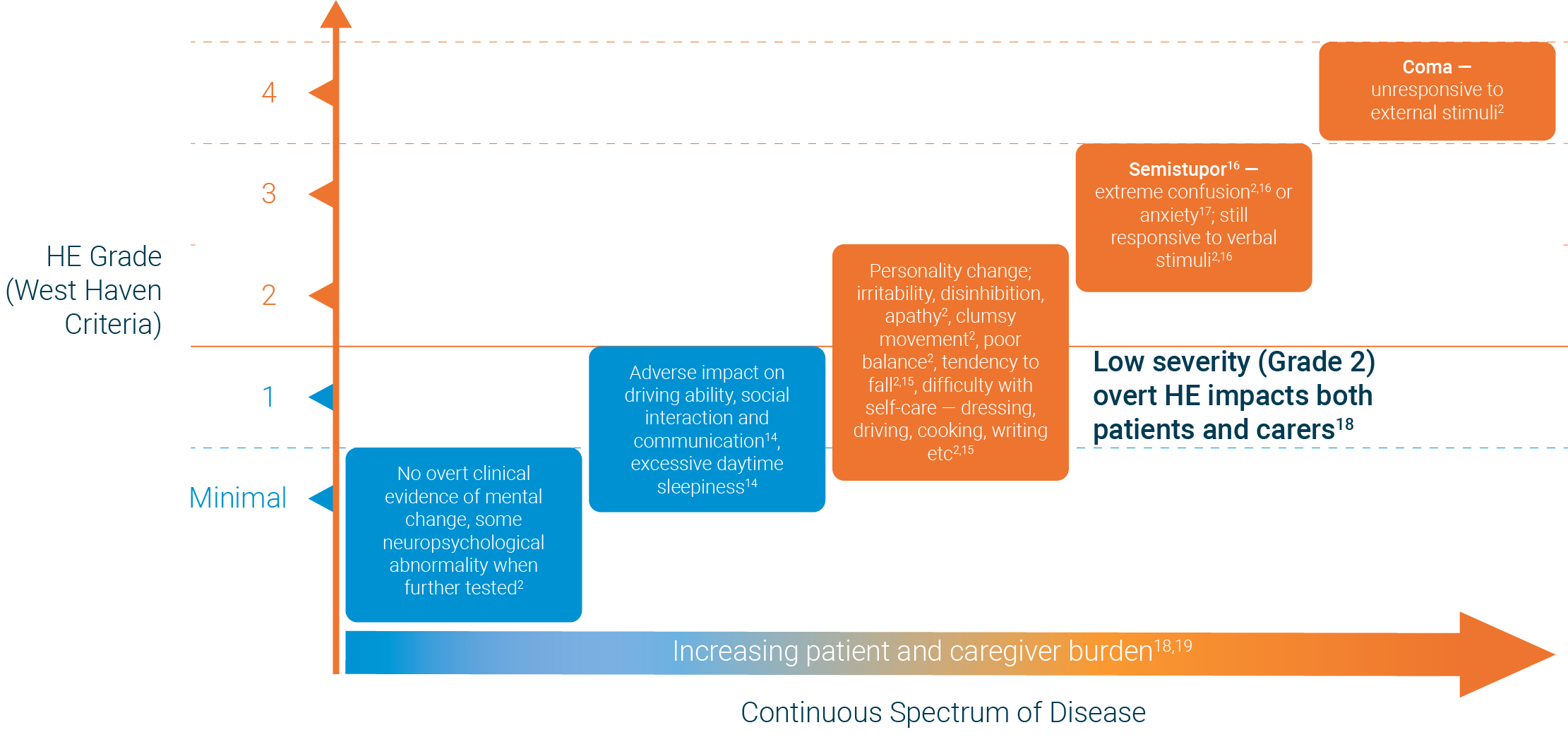 Temporal and clinical detection of HE subtypes
Covert (minimal) HE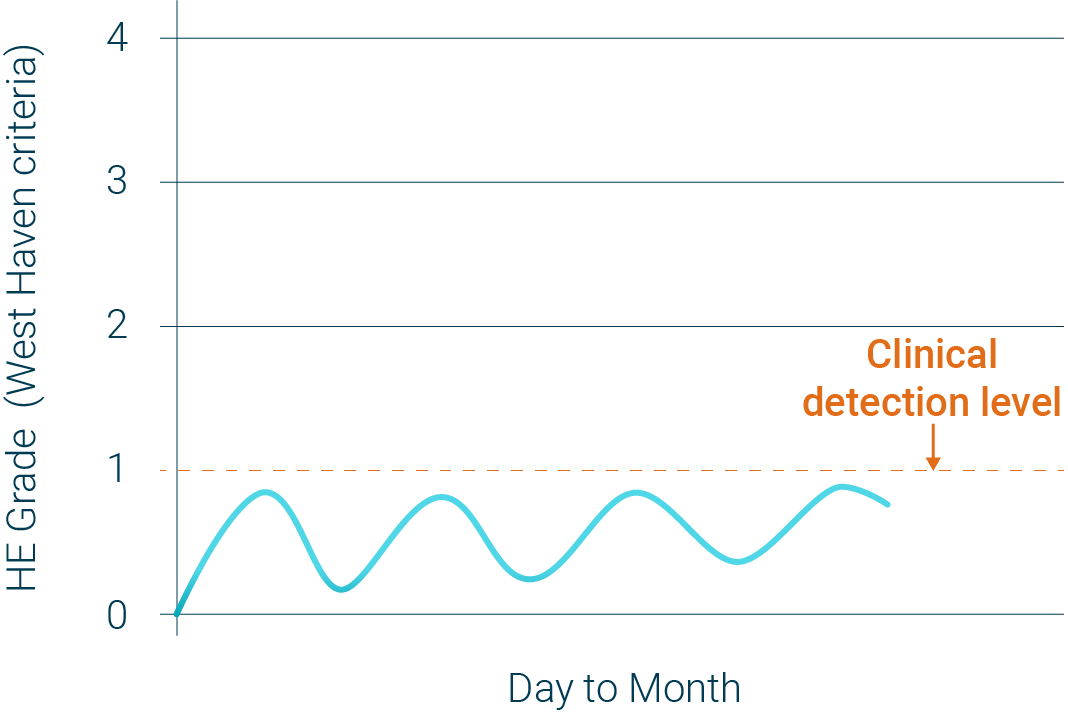 Covert HE:
Denotes neuro-psychometric or neuro-psychological abnormalities without clinical evidence of mental change, but with subtle alterations in attention, psychomotor speed, working memory and visuospatial ability. Patients remain below the clinical detection level. 2,20
Persistent (chronic) HE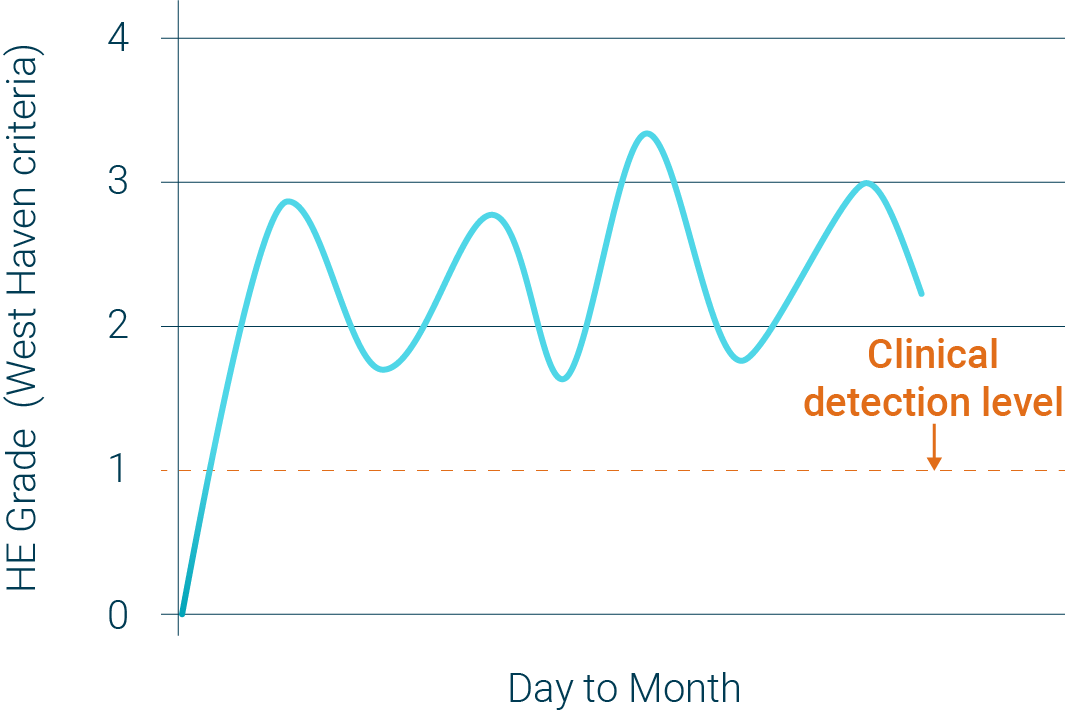 Persistent HE:
Denotes a pattern of behavioural alterations that are always present and interspersed with relapses of overt HE. Patients never become free of HE. 2,20
Testing cognitive function
Click on each heading to find out more
Psychometric hepatic encephalopathy score (PHES) / Paper & Pencil tests: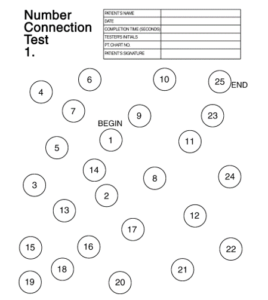 The Psychometric Hepatic Encephalopathy Score (PHES) is the current gold standard pencil-and-paper test battery for the psychometric evaluation of patients with HE. This battery measures psychomotor speed and precision, visual perception, visuo-spatial orientation, visual construction, concentration, attention and memory, is simple to perform and can be completed in less than 20 minutes. 21 PHES is highly sensitive and specific (96% and 100% respectively) for determining covert HE. 22
Please note that different versions of the PHES/paper and pencil tests are available with local population-based normative values. Validated versions of the PHES are available in Germany, Italy, Spain, India, Korea and China. Please check for local versions of these tests where appropriate.
The LiverSync® app also allows patients with advanced liver disease and at risk of developing HE to regularly test their brain function and detect any early signs of change through tests including trail-making, line drawing and block design, amongst others. Download from the AppStore or from Google Play (please note that this is not currently available in all countries).
Inhibitory control test (ICT):
This is a computerised test that assesses attention, response inhibition and working memory. Patients are shown a series of letters and are asked to respond to target sequences (X and Y, Y and X) while not responding to lures (X and X, Y and Y). This test is easy to administer and is reliable for the diagnosis of minimal HE. However training and specalised equipment are required.
22
Critical flicker (fusion) frequency (CFF) test:
The clicker flicker frequency (CFF) test measures cortical function, and correlates well with those of psychometric tests. Here patients are shown light pulses at an initial frequency of 60Hz and gradually reduced by 0.1Hz per second. Patients are asked to identify the time of which of the light begins to flicker.
CFF can be affected by medications, age, and equipment used. However, even with its limitations, the CFF is a simple, valid, and effective tool that can be used to diagnose covert HE.
21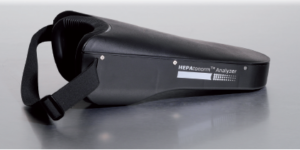 Image supplied by
nevoLAB
Imaging:
Electroencephalography (EEG) examination can detect changes in cortical cerebral activity across the spectrum of HE without patient cooperation or risk of a learning effect. However, it is nonspecific and may be influenced by accompanying metabolic disturbances, such as hyponatremia as well as drugs. 13 In patients with cirrhosis with increasing deterioration in neuropsychiatric status, there is an initial slowing in frequency with increasing amplitude, the amplitude then decreases. 1
GL-HEP-XIF-2000170    April 2021